BETTER LIVING THROUGH KNITTING TOGETHER!
World Knit in Public Day'  2023 was held on Saturday the 10th June 2023.
Today the ladies, in the town of San Paolo di Civitate, in the Foggia province in Puglia, took part in this world event, sharing their passion for knitting and showing their creativity for this stunning craft  to the world.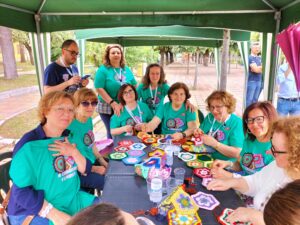 It's not every day that one has the opportunity to sit together with others to knit, chat and spend a couple of hours together sharing in lovely company while knitting. 
It's a human need to be together with others, thus having the possibility to share yarn, the love of beautiful colours and the story of unfinished projects is awesome…
 And
THAT'S WHY WE KNIT IN PUBLIC TODAY!
        Taking a walk through our town gardens at the start of Summer this year and realizing that all these ladies' handiwork were used to decorate and beautify our trees and lampposts was a feast of colour for the eyes.
– BETTER LIVING THROUGH STITCHING TOGETHER-
Has been the mission for WWKIPDAY from the start and this organisation has been on this mission for 18 years now and hopefully they will continue as the benefits can be seen and felt by not only those who participated in our town, but it's also a wonderful way to unite the townsfolk and inspire beauty and creativity together. 
It has never been more important to help people connect – in the local community and the worldwide community. 
The act of knitting reduces stress and anxiety
The act of knitting is proven to help to calm and still the mind, as the concentration required is a distraction from negativity and the yarn's texture and colour impacts the mood positively.
 The rhythmic motions and sense of focus can help distract from mental stress. 
A little history of this day.
It was started in 2005 by Danielle Landes, it originated as a way for knitters to come together and enjoy each other's company. 
Knit in Public Day is the biggest knitter-run event worldwide. Teams of volunteer knitters will be responsible for setting up events locally. In the past, some people took the chance to use this event to show the world that "knitting is not only for grannies."
There are no precise numbers regarding the number of knitters worldwide. Still, the latest increase in sales is showing more people are joining!
Knitting is a beneficial hobby, as it improves your mental, emotional and physical health. 
A big thankyou to our association, 'Desaleo'  for organizing  this event  in San Paolo di Civitate and to all the participants, especially the knitters responsible for bringing colour, unity and beauty to our town's public gardens.