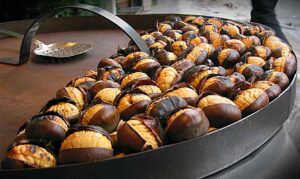 Italy…an Autumn palette of pure beautiful colour and chestnuts of course!
  As summer draws to a close in Italy and the sweltering heat that we endured during July and especially August is finally ending, it's such a refreshing thought that at last we can expect the timely arrival of Autumn.
   October generally brings crisp, cool mornings and evenings but many sunny days as well.​​
FESTIVALS AND CULTURE
Traditions and events that colour Italian lives during Autumn are All Saints Day, music festivals, and food festivals including truffles, mushrooms, grapes, chocolate, torrone and of course last but not least, chestnuts!
Autumn also welcomes the start of the theatre season.
 Cities, towns and villages are no longer bustling with tourists and holiday makers, making it a time when Italians return to their normal and less chaotic way of life.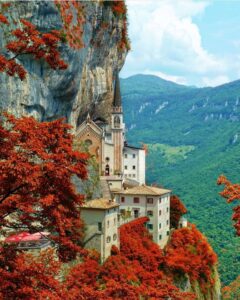 It is a time when, if you are here, taking a walk through a city after dark can be beautiful and romantic.
There are fall music and theater festivals in some cities, including Rome and Florence.
Italy in Autumn is a colourful and breathtaking work of art that perhaps not even our greatest artists could depict. Just picture a country scene in Tuscany or Umbria or a city such as Florence or Rome in fall.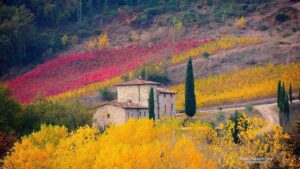 BUT LETS TALK CHESTNUTS !
I absolutely love them and of course they are found in abundance all over Italy at this time. This morning I returned from our local village market situated in San Paolo di Civitate, Foggia province, in the region of Puglia, with at least 5kg of beautiful fresh chestnuts and am now planning the various recipes that I am going to subject them to, but in the meantime I have included a simple recipe at the and of this article for you all to try.
But before that, here's a little titbit on the history of the humble chestnut.
Castagne (Cast-AH-nyeh) have been cultivated for over 2000 years and were imported into Italy and the rest of the European continent from the Near East and Turkey.
Ancient Greek writers–Dioscorides and Galen–wrote about the chestnut's health benefits while warning of the flatulence caused by overindulging. So be careful not to overdo things!
Early Christians thought chestnuts symbolized chastity. Communities in the mountainous and forested areas of Italy relied on chestnuts as their main source of carbohydrates, and in some regions, a cake made of chestnuts is used as a substitute for potatoes.
The European Chestnut can grow to 60 feet tall, and can be quite bushy. There have been reports in history of some trees reaching 50 feet in circumference around the trunk.
Some are very similar to the huge, ancient 2000 year old olive trees we see here in Puglia.
Il Castagno dei Cento Cavalli (Chestnut of 100 Horses) on the eastern slope of Mount Etna in Sicily is the oldest known chestnut in the world, estimated to be between 2000-4000 years old!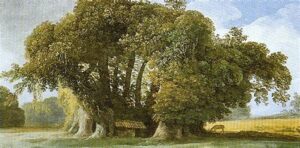 The tree's name comes from a legend about The Queen of Aragon and her army of one hundred knights being able to take shelter under the massive tree during a severe storm.
In the 1700s its then intact trunk measured almost 200 feet around.
Today, the tree's trunk is split into several different sections, but all are growing from the same roots and are still alive.
Chestnut vendors can be found all over Italy
The Mugello area in northern Tuscany is no doubt the heart of chestnut cultivation in Italy. In fact the Mugello Sweet Chestnut has been given Protected Geographic Indication status by the European Union. It is sweeter than others, peels easily and supposedly tastes of vanilla, hazelnut and the scent of fresh bread.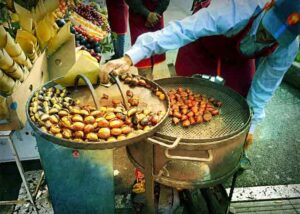 Although you can eat chestnuts raw, the flavor can be a bit astringent. The best way to enjoy them is roasting, although they can also be candied, boiled, steamed or deep-fried. For roasting, the outside of the fruit needs to be scored to prevent them from exploding. The texture is something like a dry baked potato with a sweet, nutty flavor.
Chestnuts in Italy are used in many different ways: milled into flour for bread, cakes, pastas or polenta; to thicken soups and sauces; to make fritelli (fritters); candied or pureed and sweetened for desserts or as spreads; as an element of stuffing for turkey or goose; as a substitute for potatoes in stews.
A SIMPLE WAY TO PREPARE AND COOK CHESTNUTS
Preheat your oven to 425F
Cut the Xs in the chestnuts (use a very sharp knife, but be careful) on the rounded side.
Using a large stock pot, fill with enough water to cover the amount of chestnuts you are going to roast, and then add 1/3 cup sugar, 3 tablespoons salt and 4 dashes of nutmeg.
Add your chestnuts to the pot and bring to a boil. Switch off the heat after they come to a boil and remove from the heat.
Let them rest for 10 minutes.
Drain the chestnuts and lay them out onto some paper towels or a cotton kitchen towel to dry off a little.
Next, put them in a large flat pan,cut sides facing up.
Sprinkle some sugar and cinnamon
or salt on them before baking. It obviously depends on whether you want them sweet or salty.
Roast for a 30 minutes in the middle of the oven.
If it looks like they are browning too fast after the first 15 minutes or so, you can lay a foil sheet loosely over the top.
The flesh should look golden brown when done and the skin should be curling open.
Of course, chestnuts need to be eaten right away–as soon as you can touch them without burning your fingers.
Oh, and some sound advice, a lovely glass of Amaretto will be the perfect accompaniment to these absolutely delicious delicacies.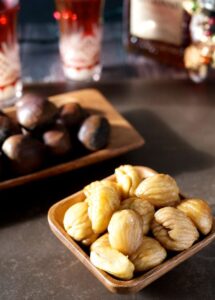 Buon appetito and ciao till next time.